About Trike Adventures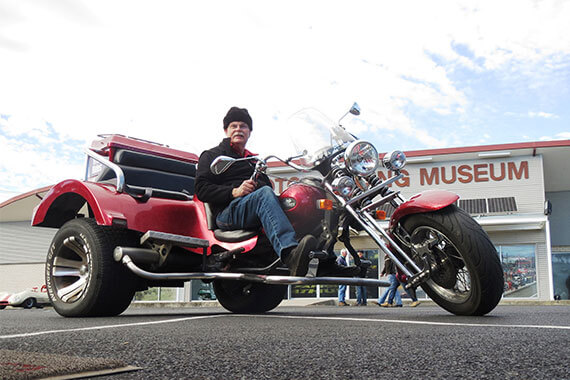 Trike Adventures has been providing a wind in the hair experience for tourists and locals alike since 2010. Tours take place on a three wheeled motorised, custom built 4 seater (3 passengers and the Chief Rider) OzTrike.
Our awesome red trike was built in Gosford, NSW and has a powerful Volkswagon 1.9L engine.
We are based in Dubbo but travel to various events, shows and festivals within a 200km radius of Dubbo.
We have a range of tours available but are happy to tailor-make a tour to suit your special requirements to make your ride a unique experience.
About the Owners
Peter has over 40 years of Motorcycling and Customer Service experience, he is your Chief Rider and tour guide during your ride with us.
Lee keeps the wheels turning by handling the administration and accounts and is backed by a Bachelor of Business along with experience in management and customer service.
Together they bring you Trike Adventures, a unqiue way to see and experience Central West NSW.
Both Peter and Lee have a long history of dedication to the local community, from involvement in Rotary to being on the founding committee of the fantastic Dubbo New Years Eve Fireworks. You won't find a more passionate duo to showcase what the region has to offer.